Teen Thailand 4 Date 20.10.2020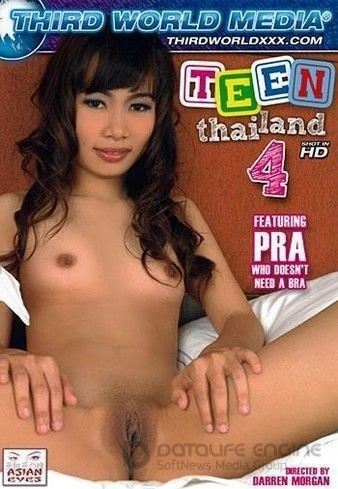 Teen Thailand vol 4
Cast: Aeing, Pim, Pra, Pui
Genres: Asian, Teens, Thai, International, Interracial, Stocking, Hairy, Small Tits
Video language: O - Ton
Teen Thailand 4
Young Thai chicks are born, bred and brought up to use their assets to their advantage. What are those assets? Hot and tight bodies, sexy eyes and fuck me faces along with snatchers that are designed to do nothing else than inhale one foreign born cock after another.
Pra, who does not need a bra, is our cover girl for this volume. She has long curly hair and a very pretty smile. Her body is all natural, with firm young tits and actively stubby nipple points. Her stomach is tight, her vagina is moist and her mouth is hungry for a fat cock inside it. Her Thai snapper is shaved down bald with a bit of 2-3 day old stubble on top. Her body is small and tiny but her pussy is built to handle the larger import model cocks. She rides the shaft and her pussy puffs as it takes a hammering in multiple positions before our guy lets his juices fly across her tight tummy. She showers, changes and checks out.
Aeing has a very exotic look. She has dark hair and dark eyes and a dark stain on her panties where her pussy juices are seeping through. Her tits are small and her nipples are dark and her pussy lips are spread open wide like a Thai orchid in full bloom.. She hops on the cock and fucks it herself, up and down and in several positions before a massive wad of cum gets sprayed up and down her quivering ass and gaping pussy hole. She washes it all away, changes clothes and splits.
Pui is a tight and tiny Thai teen with a baby face, bleached hair, tiny tits and 2 nubby nipples. She is half the size of Allen who warms her body up as he licks her down from top to bottom. Her pussy is soaked and filled with Thai tonic that Allen cleans up with his fingers and tongue before feeding her large chunks of his erect English sausage. Pui got a tight pussy and long silky asian pubes too. She is a screamer and likes getting piped, especially as her pussy starts to loosen. She screams and squeaks like a Japanese girl and starts to flop around like a rag doll as the plunging continues. She is rewarded with a mouth and face full of thick jizz. She showers her tiny body clean and waves goodbye.
Pim is a really hot Thai chick with long hair, braces and a very rare set of thick Thai tits. Her large rack is a rarity in a country filled with mostly A cups. Her perfect racks hangs nicely as she drops to her knees to suck cock. Her moderately hair coated Thai taco starts to sweat as our white penis on the scene steers closer. Her big tits bounce and shake as she gets it from the bottom, the side, below and behind too. She handles the hog well and really enjoys the large dosage of cum she is fed straight into her mouth and pasted on her chin. She showers and changes and straps her big rack back into a tiny Thai bra.
Format: mp4
Duration: 2:46:52
Video: 720x400, AVC (H.264), 977kbps
Audio: 125kbps
Date: 20.10.2020
Size: 1360 MB
Duration: 2:46:52
Teen Thailand 4
Links FastFile.cc Part 1
Links FastFile.cc Part 2